Hello!!!
This is the kind of place I personally would

like to be locked in, being sure that the key is thrown very far away.
Opened a couple of weeks ago in the very heart of Liverpool's shopping paradise, Liverpool One, the beauty bazaar introduces all its costumers to a posh and luxurious experience in the world of beauty and make up.
Don't call it "shopping", that would not make it justice!
Last week I was so lucky to be

invited there for a Benefit Bloggers event (another

post about it coming soon)

and we were introduced to the concept of the Beauty Bazaar from the lovely people working there; I would like to apologise for not remembering the name of the lady that talked to us about all the magics you can find here!
What Harvey Nichols wants to create is a completely unique pampering experience that goes far beyond the simple "go in- can I have a mascara please- bye bye''.
There is a personal shopping service available, oh yes darlings, someone that will take care of you, giving you the best advices and guiding through all the brands available and the products you can find and you can need.
Of course expect to

find the big names here, Tom Ford ( my excruciating love), Carita, Benefit, Laura Mercier, Mac Cosmetics, Estee Lauder, Bobbi Brown to name a few.
The Beauty Bazar offers as well different kind of treatments, with hairdressers, fake tanning, lashes and brows treatments, different kind of facials (Dermalogica, Carita and Elemis anyone?) and a "champagne nail bar", a very sparkling nail bar with all nails inc. products where to get both nail polishes or manicure pampered with bubbly, seriously, to die for.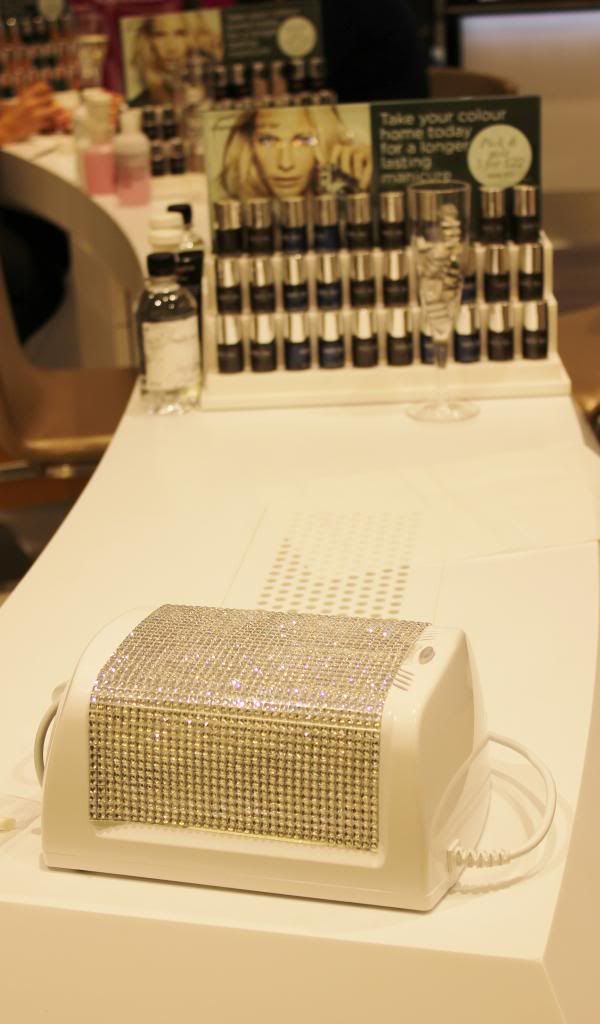 On the first floor you must have a look to the beauty mart, which is basically a stand where all the latest trend are sold, from all different brands. Is basically a '' best selections'': I spotted revlon lip butters, eos lip balm, bourjois mascara and khol, even some bioderma!
If you want to treat yourself with make up and bubbly, there is a very posh bar with champagne and cocktails ( take note: when questioned by perfect husband about that ridiculous bill on the card, blame the champagne).
If all this was not enough to break your bank account, you can take the lift and go to the top floor where treatments rooms are available at the "Karidis Medispa".
Here you can decide in between facials, peels, permanent hair reduction, hd brows and more cosmetic procedures, with the possibility to have a private consultation to decide which treatment suits you best.
The two things that most caught my attention in this little spa-esque paradise were the" strip waxing" and the slimming treatments.
The

first one is a waxing technique where your skin is pre- treated with oils and that

should make the whole strip experience completely pain free.
For the second one, we were showed two kind of appliance that work basically in a opposite way to help you get rid of the stubborn deposits of cellulite that sometimes we find hard to fight.
One works with a 'freezing' technique, the second one by "melting" the adipose cells. In both cases apparently, it will be easy for your body to metabolise and eliminate the fatty tissues.
So my dear Santa Claus, when can I drop you my wish list?
Remember, the place is Liverpool One, Harvey Nichols Beauty Bazaar, let me know if you need the address for your sat nav or your Rudolph already know the place...I bet it's the second one!